Chris Brush is a professional musician in Nashville, Tennessee and has spent the last 11 years building a career drumming on records, mixing records, and producing records. Take a moment to see what he can do for you.
About Chris Brush
Chris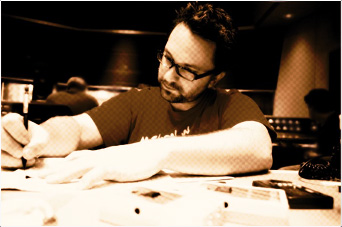 Chris grew up in Dallas, Texas. His dad introduced him to drums at an early age, but Chris didn't get serious about drums until late in high school. Chris attended Abilene Christian University and graduated in 1999 with a degree in digital media. However, Chris' true love was music and he practically double-majored in music during school, playing in jazz ensembles, big bands, rock bands, and percussion ensembles. He also took private drum lessons and guided studies in theory and arranging.
Chris moved to Nashville in 1999. His first gigs in Music City were mostly jazz casuals and terrible country cover gigs. From 2001 to late 2007, Chris toured with various indie and label artists in the Christian, rock, and country genres. While Chris always played sessions here and there, it wasn't until 2007/2008 when he started transitioning off the road that he become more of an in-town drummer.
Chris' studio experiences gave him an interest in music production beyond the view from the drum throne. He started mixing artists in 2005, and officially started producing artists in 2008. Chris' studio "In the Red" came about at the beginning of 2008 and has grown ever since. Currently, Chris is either playing drums for somebody, mixing someone's project, or producing/recording/programming for various projects.
Brush's Studio "In The Red"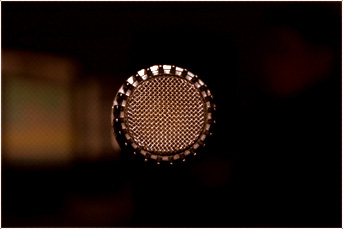 "In the Red" is Chris' home studio. Functional since 2008, it serves as Chris' mix room and tracking room. The tracking area is roughly 22x20 with a modified A-frame ceiling that rises to an 18 foot peak. Half the flooring is hardwood and half is carpet for two different sound options. The studio is normally set up for recording and mixing in the same environment. When tracking drums with clients present, Chris relocates the control room to provide separation. Guitar cabs are placed downstairs in the crawl space. The studio is capable of recording a full rhythm section playing simultaneously. The studio has Pro Tools, Digital Performer, and Logic. Chris can control the session remotely from the drum chair if necessary.
Studio Gear
Chris has the gear to get the sounds. Some of it includes...
Pres
Processing
Mics

Vintech x81 (2)
Vintech x73i (2)
Amek CIB (1)
Sebatron vmp-4000e (4)
Universal Audio LA-610 (2)
Focusrite Red 6 (1)
John Hardy M-1 (2)
Presonus Bluetube (2)
Avalon U5 (1)
ART Tube Amp Studio (1)

Vintech 609ca stereo compressor/limiter (1)
Joemeek SC4 stereo compressor (1)
dbx 118 stereo compressor (2)
Manley Variable Mu stereo compressor/limiter (1)
Valley People Dyna-Mite compressor (2)
ADM console EQ (2)
Electrix FilterFactory (1)
Electrix WarpFactory (1)
Electrix Mo-FX (1)
Line 6 Bass POD Pro (1)
SPL DynaMaxx stereo compressor (1)
SPL Tube Vitalizer (1)

Shure SM57 (3)
Shure Beta 52 (1)
AKG D-112 (1)
Sennheiser MD-421 (2)
Blue Kiwi (2)
Blue Mouse (2)
Sennheiser e609 (1)
Royer 121 (1)
Neumann U-87ai (1)
Neumann KM-184 (2)
sE 2a (2)
sE H3500 FET (2)
sE 5500 (1)
Neumann SM2 stereo tube (1)
AEA R98 stereo (1)
Crown PZM (2)
Custom reverse-wired woofer
a few really crappy 'fun' mics
Drum Gear
If Chris doesn't have something to play that sounds right for your record, there is not such a thing to be found.
Kit 1 "modern"
Kit 2 "vintage"
Kit 3 "everything else"

Ludwig 1990s Classic

- 6-ply maple shells
- 5-pieces - 8,10,13,16 toms, 22 kick
- "blue marble" acetate finish

Ludwig 1963 Vintage

- 3-pieces - 12,16 toms, 20 kick
- original shells and bearing edges
- "galaxy sparkle" wrap finish
- was my dad's kit

Ludwig 1970 Standard

- reinforcement hoop shell construction
- 4-pieces - 13,16 toms, 22 kick, 5x14 snare
- "bronze strata" wrap finish
Snares
Percussion
From black beauty to wood to aluminum to chrome. Plenty o' snares and tons of sonic colors.

- 14" dejmbe
- 10" and 11" congas
- 10" practice conga (head on a disembodied rim)
- conversion kit fr making a kick drum out of a floor tom
- tons of shakers, tambs, noisemakers, blocks, chimes, hooves, and bizarre toys
- cowbell
Artists Chris Has Worked With
Here are just some of the artists Chris has worked with: